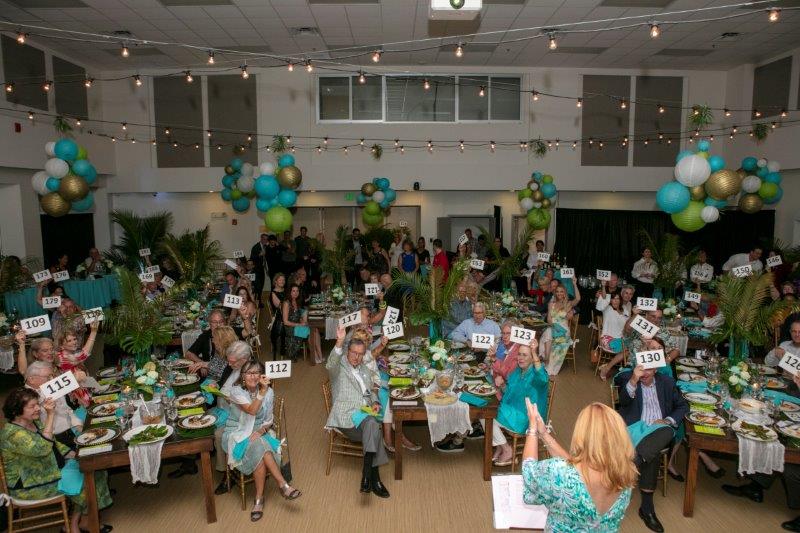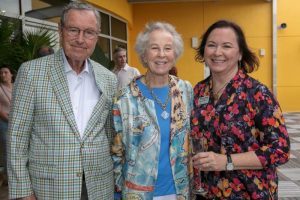 The Heights Foundation/The Heights Center's 14th annual fundraiser, Love Your Neighbor, on April 2, raised $500,000 to support the organization that works to build strong, self-sufficient families in The Harlem Heights neighborhood of Fort Myers. The event, typically hosted in a private home in Gulf Harbour, was moved to The Heights Center in the past two years, and the number of attendees was limited.
Guests enjoyed cocktails and hors d'oeuvres on the Heights Education Building's rooftop terrace, then proceeded to The Heights Center auditorium and were greeted by emcee Kellie Burns of NBC-2. Chef Gloria Cabral Jordan served a family-style Caribbean-inspired dinner featuring roasted Cuban pork, citrus broiled Mahi, sweet plantains, and a selection of wines paired by wine writer Gina Birch. Norman Love Confections provided an orange mousse, citrus crémeux, yuzu ganache and a chocolate cream truffle dessert.
Children from The Heights Center's education programs entertained the guests with two songs.
Scott Robertson of Scott Robertson Auctioneers conducted the fundraising ask and live auction to support the organization's educational programs.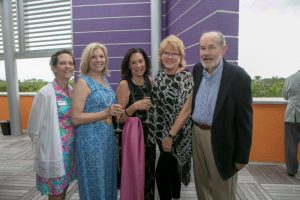 Donors met a $100,000 challenge match by Gaye and Jim Pigott.
Top auction items included a one-of-a-kind pendant created and donated by Mark Loren Designs, six hours of flight time in a Bombardier 350 jet, dinner for ten at the Iona-McGregor Firehouse 72, tapas and wine in the home with Chef Gloria Jordan and Gina Birch, Music City for four with Keith Urban, Sonoma/Healdsburg Wine Country for four, a VIP day at The Redneck Mud Park and wine and culinary cruise for six aboard the 101′ M/Y Tò-Kalòn.
Guests enjoyed classic and Latin favorites by BraziJazz after the auction.
"Our Love Your Neighbor event is our biggest fundraiser," said Kathryn Kelly, founder, president, and CEO of The Heights Foundation/The Heights Center. "The families in Harlem Heights are extremely vulnerable, and our enriching preschool, charter school, afterschool, and summer camp programs ensure that parents can work and kids can have fun, be safe and learn. We were amazed by the outpouring of support by our friends and donors."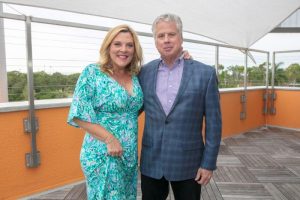 Event supporters include Chef Gloria Jordan of La Trattoria Cafe Napoli, Mark Loren Designs, Norman Love Confections, Gaye and Jim Pigott, Owen-Ames-Kimball, entech, Kim Agypt, Chuck Bergstrom Realtor, Acentria Insurance Elite, Florida Power & Light, The Masiello family, Kellie Burns of NBC-2, Dave and Cheryl Copham, Dustin Valette of Valette's Restaurant, Clay Mauritson of Mauritson Wines, Harold's Restaurant, Lisa Bommarito Floral Designs, Creative Sound and Lighting, Elly Hagen Marketing & Public Relations, Gina Birch, Kellie Burns of NBC-2, Iona-McGregor Fire Department Station 72, Mix Marketing, R.S. Walsh Landscaping, Redneck Mud Park, Scott Robertson Auctioneers, Brenda Krieger, Heights Event Coordinator, Teri Palmer, event chair, event committee, and volunteers.
For more information about The Heights Foundation/The Heights Center, visit www.heightsfoundation.org or call (239) 482-7706. To donate, visit www.heightsfoundation.org/donate.