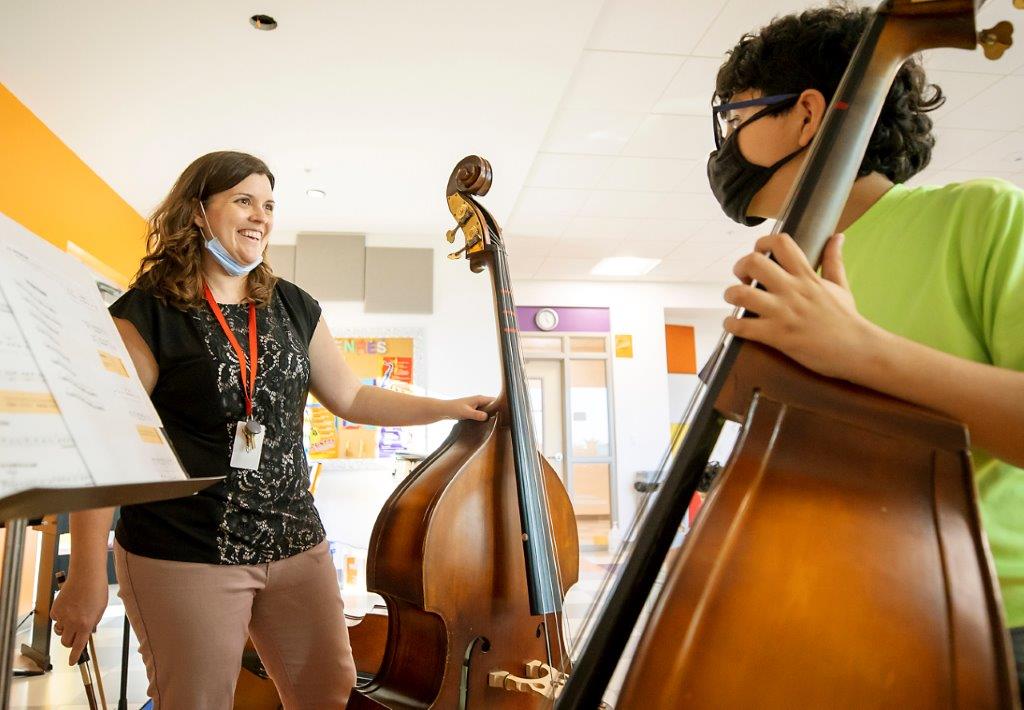 The Southwest Florida Symphony, Lee County's only professional orchestra and the fourth oldest in the state, has partnered with The Heights Foundation to provide music education and performance opportunities for students of all ages in underserved neighborhoods of Lee County.
Made possible through generous charitable donations from the community, the new after-school program is part of The Heights Center's Musical Opportunities Supporting the Arts in Our Community program, also known as MOSAIC, and will run during the school year at The Heights Center in Harlem Heights, with classes starting Tuesday, Sept. 6. Youth Orchestra rehearsals will begin Monday, Sept. 12.
"The Heights Center's MOSAIC program is an El Sistema-inspired, daily music education program," said Melissa Barlow, director of arts and community programs for The Heights Center. "It serves nearly 50 elementary and middle school children from the Harlem Heights community by providing free instrumental music instruction and numerous performance opportunities at The Heights Center and throughout our community. MOSAIC empowers students to aspire for excellence in everything they do, from their academic classes to MOSAIC lessons. As a result, familial and community bonds are strengthened, and our students are taught to become leaders by being highly ambitious at every opportunity."
Students of all skill levels are welcome to participate, with the symphony offering beginner, intermediate and advanced music education programming. The Southwest Florida Symphony will provide educational staff to deliver music education, instruction and public performance opportunities. Tuition is free and instruments are provided for participating students.
"In addition to reaching youth who may not otherwise have access to music education, our collaboration with The Heights Foundation will also help support recruitment efforts and cultivate the next generation of orchestral talent from within our own community," said Amy Ginsburg, executive director of the Southwest Florida Symphony.
To learn more about the new after-school music education program or to enroll a student, call 239-482-7706, ext. 4006.
The Heights Foundation works to build self-sufficient families in the Harlem Heights neighborhood. Its mission is to support education and wellness, promote family and community development, and provide the benefits of enrichment and the arts. The Heights Center, supported by The Heights Foundation, is a place for education, opportunity and enrichment and serves 134 children through the after-school program and summer camp.
The Southwest Florida Symphony made its debut as a community orchestra on April 15, 1961, playing in schools and community centers, with a roster of only 24 volunteer musicians. Today, the symphony boasts a roster of 70 world-class musicians, and is Lee County's only fully professional orchestra. The Southwest Florida Symphony's 62nd year continues the orchestra's tradition of artistic excellence as newly appointed Music Director Maestro Radu Paponiu leads his inaugural season of spectacular performances. Maestro Paponiu, the sixth music director in the organization's history, also serves as the associate conductor and youth orchestra director for the Naples Philharmonic in addition to guest conducting with orchestras throughout the United States and Europe.
For more information about the Southwest Florida Symphony, upcoming season performances and subscription and ticketing information, visit swflso.org or call 239-418-1500.