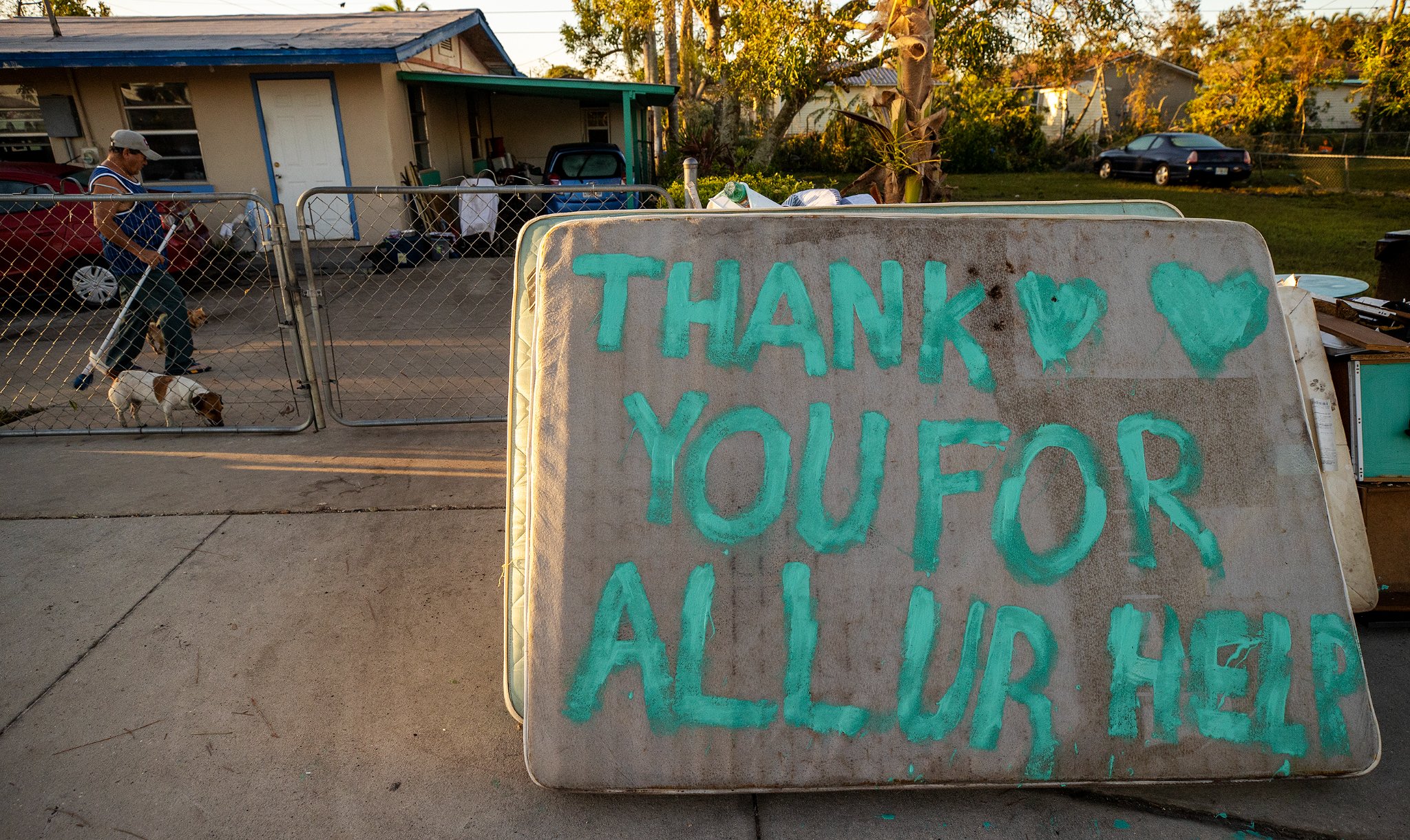 Photos were taken three days after Hurricane Ian.  Photos by Kinfay Moroti/Hopeful Images
A message from The Heights Foundation's Founder, President, and CEO, Kathryn Kelly:
Each day we take another step forward in our Hurricane Ian recovery.
We have supplied our Harlem Heights community with food, water, and household necessities. We have organizations donating hot food and free medical care, and we are providing social services to local families, including assistance with insurance and FEMA paperwork. Many parents have lost their jobs and are now coming to us for rental and utility assistance.
We have hired several Harlem Heights community members to work in our donation outreach.  We are working with local organizations to host an employment fair at the Center in the near future.
Our volunteers are busy working in the neighborhood, clearing debris, tearing out damaged drywall, tarping roofs, and more. We still need help and welcome those interested in assisting with the clean-up efforts. Volunteers meet at The Heights Center at 9 am, Tuesday through Saturday.
The Heights Charter School opened on October 17. Our Early Learning Center and AfterSchool program reopened on October 24.
As we move forward in our Hurricane Ian recovery, we have identified several urgent needs to assist the community. The biggest need right now is funding, which enables us to target and address the specific needs of individuals and families in the neighborhood. Please click here if you would like to make a monetary donation.
Crucial supplies we need can also be found on our Amazon list by clicking here.
Donations can be dropped off Tuesday – Saturday from 9 am – 3 pm.
We are deeply grateful to everyone who has donated, volunteered, and supported our efforts to help our Harlem Heights families recover from the devastation of the storm and rebuild their lives. Your help is greatly appreciated and truly makes a difference.
How else can you assist?
• Volunteer at the Center.  Email Emery Lowden at emery@heightsfoundation.org
• Put together a work crew for our community.  Contact me at kathryn@heightsfoundation.org
• Collaborate with us. If you are a nonprofit or government entity, please reach out. We are happy to provide you with a staging area as a hub in the community.
• Develop a business partnership. If you are a business looking for employees or volunteer opportunities, we can help.  Contact Emery Lowden at emery@heightsfoundation.org
• Host a supply drive at your organization, business, or place of worship.
• Share your ideas. If you have a suggestion that you would like to share with me, please let me know.
I am praying for everyone in Southwest Florida and am deeply grateful for your support during this challenging time. Your help truly makes a difference.
Sincerely,


Kathryn Kelly
Mail checks to 15570 Hagie Drive, Fort Myers, FL 33908
Below is a list of suggested items needed.  Donations can be dropped off at The  Heights Foundation, 15570 Hagie Drive, Fort Myers, 33908.  Daily from 10 am-3 pm. 
Our Biggest Needs (please note this list changes regularly as we respond to the most current needs):
Personal care items including deodorant, razors, and shaving cream
Bleach and dish soap
Mold Remediation spray  (300 plus gallons needed).  Available on our Amazon wish list:  Click here to purchase 
Bath towels
Hot plates
Purchase items from our Amazon wish list, which will be delivered directly to The Heights Foundation:  Click Here to shop from our Amazon wish list.
Click Here to make a monetary donation online.